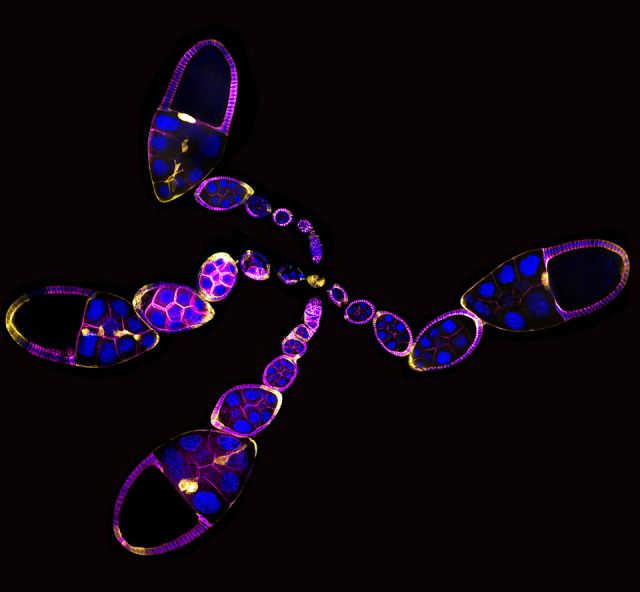 About Allison
Allison Gabbert is a Ph.D. student in the Molecular, Cellular, and Developmental Biology at UC Santa Barbara. She is from San Jose, California and received her B.S. degree in Cell Biology from UC Davis.
Why Choose UCSB?
UCSB is a great choice for graduate school because as a research university, research is highly emphasized. Students are deeply involved in cutting edge research and gain hands on exposure and experience that prepare them for their future careers. UCSB also values education. It provides graduate courses to strengthen students' knowledge of their field and teaching opportunities so graduate students can practice communicating their knowledge. There are also specific courses and certification programs available if students are interested in pursuing a specific career path such as teaching or industry.
Department
I love how the MCDB department has such a diverse range of research topics and the labs and researchers are so collaborative. Even if they work in different labs, researchers in MCDB share reagents and supplies, teach each other new techniques, and discuss and sometimes work together on research projects.
Santa Barbara
One of the perks of attending UCSB is that I can live in Santa Barbara with its beautiful weather and beaches. As someone who gets cold easily, Santa Barbara's comfortable climate that rarely requires more than a light jacket is perfect for me. My research lab looks over the ocean, so I have an ocean view every day at work and if I need to destress or brainstorm new ideas I can take walks along the beach and come back to work refreshed. I enjoy the restaurants and shops in downtown Santa Barbara, and Goleta has some fun microbreweries that always have new beers to try.
Planning out fly crosses can be fun because they turn into logic puzzles where I have to figure out how to cross in or out certain genes on each chromosome and end up with a fly expressing a particular combination.

Allison Gabbert, Graduate Student
Molecular, Cellular, and Developmental Biology
UC Santa Barbara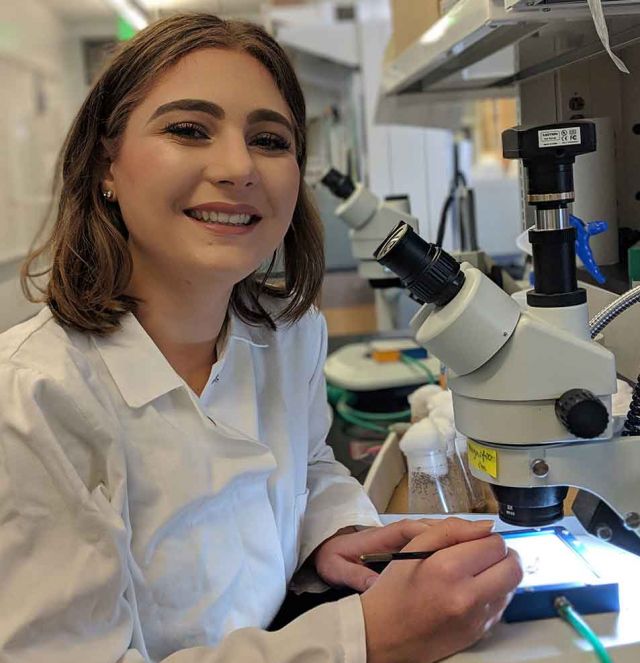 Research
Collective cell migration is crucial to embryonic development, wound healing, and immune response and it allows tumors to metastasize. In Denise Montell's lab, I research this process using the border cell cluster in the Drosophila ovary as a model. The actomyosin cytoskeleton mediates the formation of protrusions in the migrating border cell cluster. Novel findings suggest that septins, a largely unexplored fourth element of the cytoskeleton, may also be involved in border cell migration. Septins are conserved throughout animals and fungi and are involved in a diverse array of cellular processes such as cytokinesis, plasma membrane curving, vesicle fusion, and diffusion barrier formation. They have been shown to interact with actin and microtubules and regulate actomyosin contraction in collective cell migration in the Xenopus embryo. Through my research, I aim to understand the role of septins in border cell migration.
How and Why Did You Get Into Your Area of Research?
As an undergraduate at UC Davis, I was first exposed to research when I worked in a lab studying population genomics in fruit flies. While I was interested in fly genetics, I also developed a fascination for basic cell biology and signal transduction pathways through my classes. I began researching in a cell biology lab studying how the Target of Rapamycin (TOR) kinase regulates autophagy in stress conditions in budding yeast. When I started graduate school at UCSB, studying border cell migration in the D. Montell lab excited me because it combined my experience and interest in fly genetics with my work in basic cell biology and signaling pathways.
What Do You Find Rewarding About Your Research?
Research is exciting because I am posing new questions and performing experiments that have never been done before. It is thrilling to know that I could discover things that used to be unknown or help explain questions that we don't fully understand. Of course, research is incredibly challenging and can be a slow and frustrating process- if it were easy, those questions would already have answers! It is rewarding whenever an experiment runs smoothly and I have new data to interpret and share. I am studying how life works, so things don't always turn out as expected, but any outcome can be interesting and unveil more about life's mysteries.